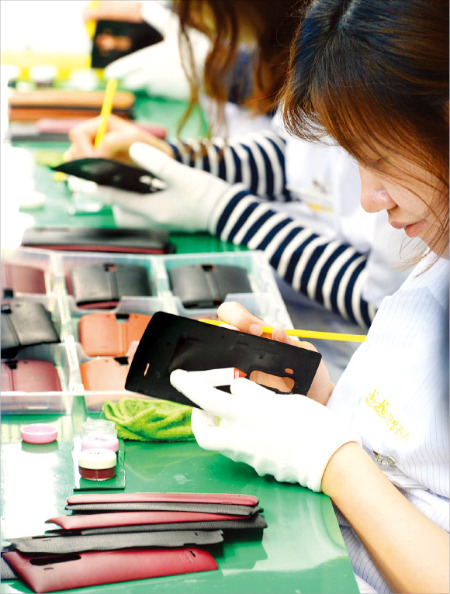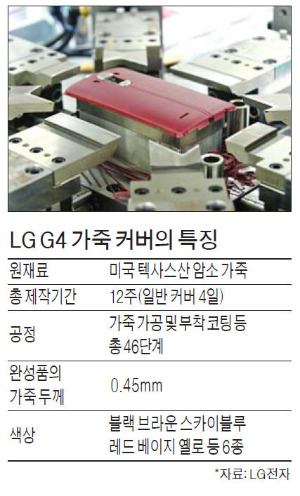 After LG electronics released their smart phone G4, people were excited about its leather cover because it feels special. Youngkwang Co., Ltd, which is partner of LG electronics, produces leather cover with inspective process. Production Line has clean room decorated as semiconductor factory. In the clean room, there is a coating process that sprays special chemicals on the leather cover for protecting leather texture.
In production Line before coating process, one was sewing on the leather cover and removed remainder of thread with fire. In another room, many employees were applying water and moisture proofer on leather meticulously.
After stitch process, it needed to attach the leather on plastic cover. H-jig technique that invented by LG electronics is used at this time. 750 employees work every 10hours a day and produce about 20,000 leather cover. It is 5.5pcs every 10 second. Its material is the surface of cow leather which is the most expensive part. They use Germany Mara thread which generally used for luxury leather goods. Most of the process is handmade that takes 20 times more than regular process.
The leather cover of G4 is gaining many interests than they'd expected. One in Mobile service company said, "70~80% customers that purchased G4 select the leather cover and they focused on camera and design." LG electronics will release G4 to US market and for that, already finished the FCC certification of radio wave.
<News link>
http://www.hankyung.com/news/app/newsview.php?aid=2015051381651&intype=1#news_reply_sns