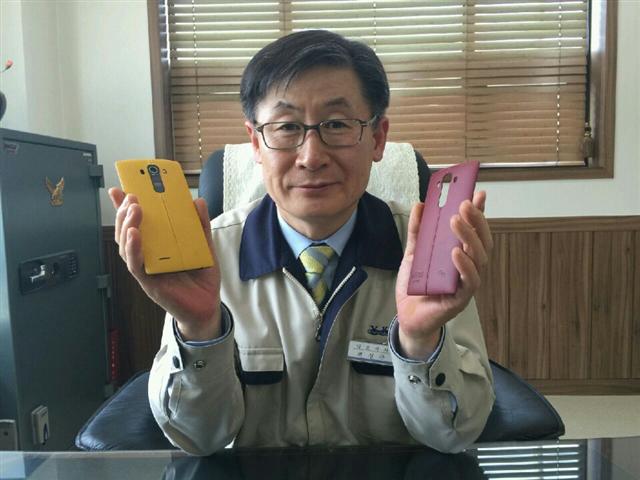 Youngkwang Co. Ltd., which is located in Bucheon city, Gyeonggi-do. Employees are making the leather cover that makes "G4" more valuable. It seemed very busy to load the finalized goods. Mr. Choi, the president, said in smile "Many expected that 10% of G4 users would choose the leather cover at first but after releasing, over 60% chose the leather cover. Many customers know leather's tactile feels better." Mr. Choi had the good chance because of leather cover of G4. Cow-leather is made in Texas, and it is needed over 30 manufacturing process and takes over 3 months for smartphone cover. He said, "Some processes are worked manually. If all processes not failed, they could deliver to Pyeongtaek Hub that make LG final cellphone. We should use no deficient part so can produce 60 qty per 1 cow."
Reliable partnership with LG electronics for 15 years.
Producing cover within only 3 months.
Have a patent application of new technology and equipment
LG electronics decided to use leather cover for G4 in December last year. So Youngkwang was pressed for time. He put out the leather cover that made manually at that time, and he said, "Our employees made 300 trial products manually and their hands were swollen. But the quality was very bad." The attached edge of leather cover seemed to have many deficiencies. Mr. Choi with Development team tried to make the edge of cover without fault and invent the technique to avoid detaching. And they developed 'H-jig' equipment that add heat and pressure to attach the leather on smartphone cover well and 'Side cutting' process that cut to leave 0.75mm.
After trial and error, they found the 0.75mm and made the equipment by themselves.
For 'H-jig' and 'Side cutting', They applied for patents. They started 'LG Music phone' for the first time and produced numerous cellphone cover and case. They finally could develop the leather cover with their skillful molding technique that makes the error range of 0.05mm and reliable partnership with LG electronics for 15 years. Before releasing finalized products, Youngkwang didn't deal with other company's works because they thought that should maintain security all every steps.
G4 leather cover has 6 types depending on color and pattern and LG electronics is under consideration about selling by the piece.
<News link>
http://www.hani.co.kr/arti/economy/economy_general/691097.html